Players from Lawrence North varsity volleyball celebrate after defeating Cathedral for the first time in five years, at Lawrence North High School, Indianapolis, Thursday, September 8, 2016.
Fargo shortstop Jake Salentine dives for a catch in attempt to tag East Grand Forks' Hunter Aubol, as he slides safely into second base during a game at Stauss Field in East Grand Forks, Minn. on June 13, 2013. East Grand Forks Legion Post 157 lost to Fargo Legion Post 2, with a final score of 3-6.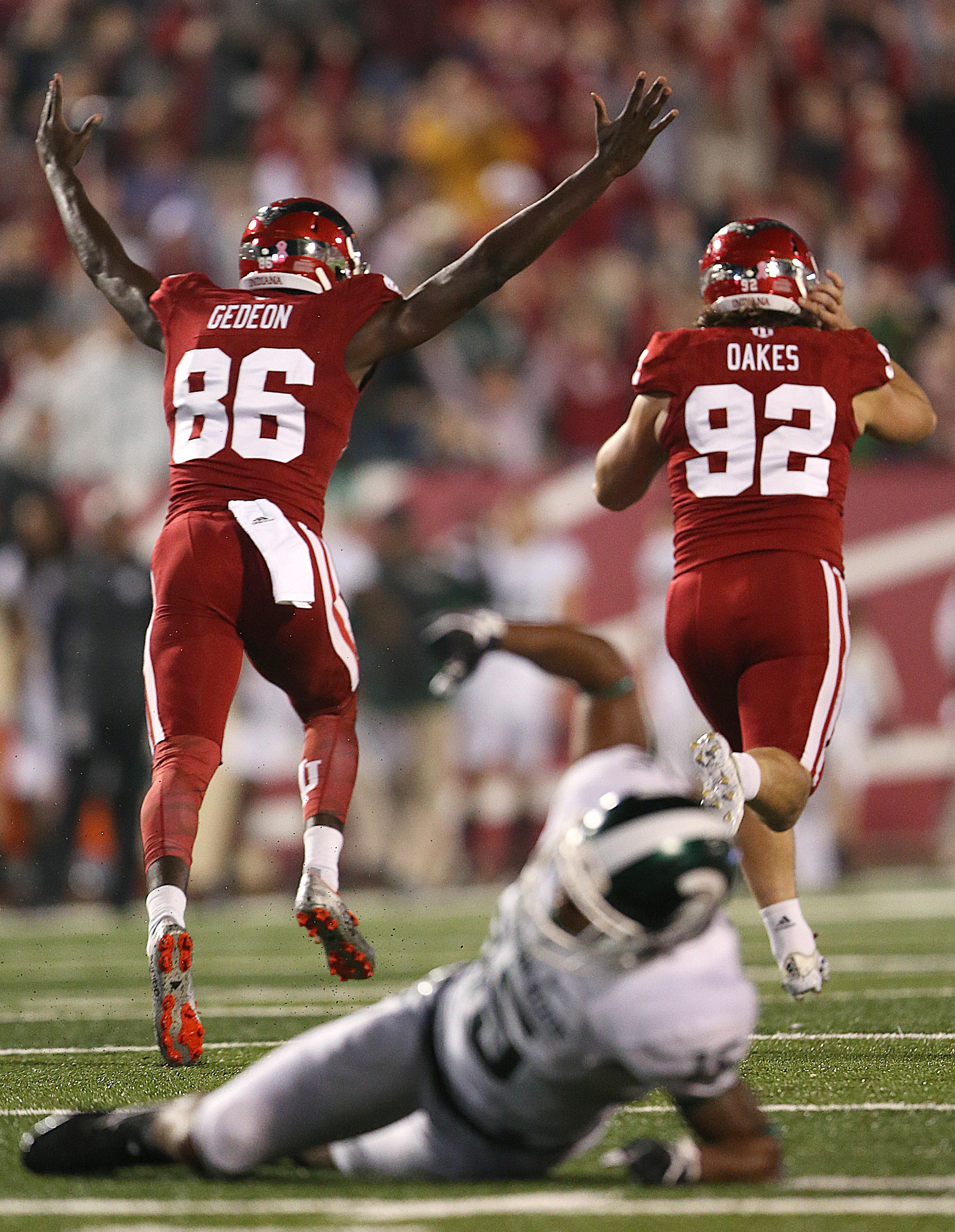 Indiana Hoosiers kicker Griffin Oakes (92) kicks a field goal to defeat Michigan State 24-21 in overtime, Bloomington, Ind., Saturday, October 1, 2016. Oakes and Indiana Hoosiers punter Joseph Gedeon (86) celebrate as Michigan State Spartans linebacker Andrew Dowell (5) pounds the field in the foreground.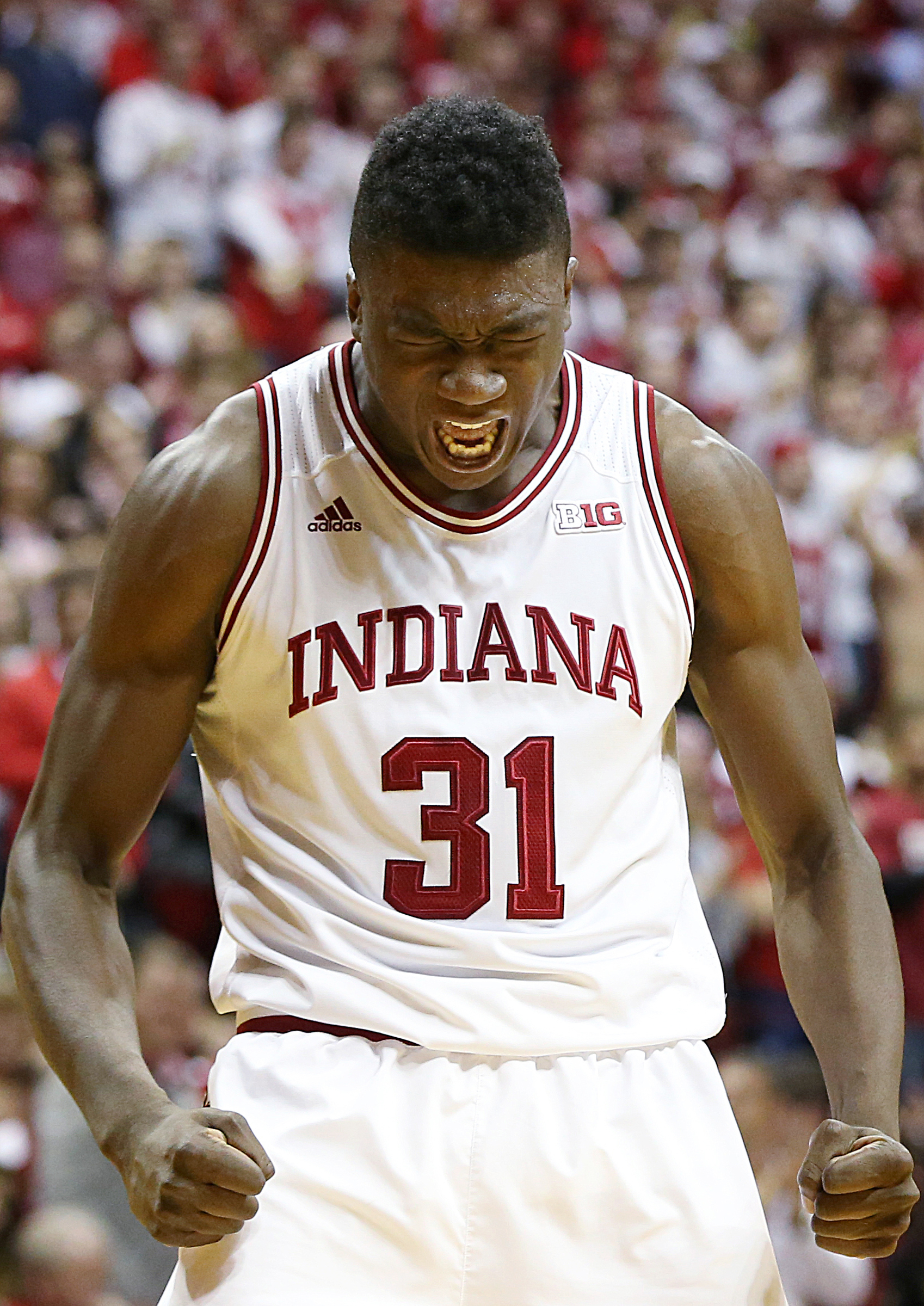 Indiana Hoosiers center Thomas Bryant (31) reacts to the Hoosiers' lead during second half action between the Indiana Hoosiers and the North Carolina Tar Heels at Assembly Hall, Bloomington, Ind., Wednesday, Nov. 30, 2016.
The Miami Redhawks react after hearing the outcome of the referee's call during the first half of gameplay against Kent State, February 7, 2015. Kent State would edge the Redhawks for a 61-60 win.
Cory Anatangelo, of Ohio's gold medal-winning Special Olympics softball team, embraces mother Pam Anatangelo, who sheds tears of joy as she welcomes him home from New Jersey, at the Lane Aviation terminal of Columbus International Airport in Ohio, Saturday, June 21, 2014. The softball team won a gold medal.
Simone Biles leaps on thebalance beam during the third rotation of senior women's day one competition of the P&G Gymnastics Championship, Thursday, August 13, 2015, Bankers Life Fieldhouse, Indianapolis, Ind. Biles would go on to finish first in the senior women's category, with a combined final all-around score of 124.100.
Front to back, Delaney Schnell and Samantha Bromberg dive during the U.S. Olympic women's synchronized 10-meter platform finals at IUPUI, Indianapolis, Wednesday, June 22, 2016.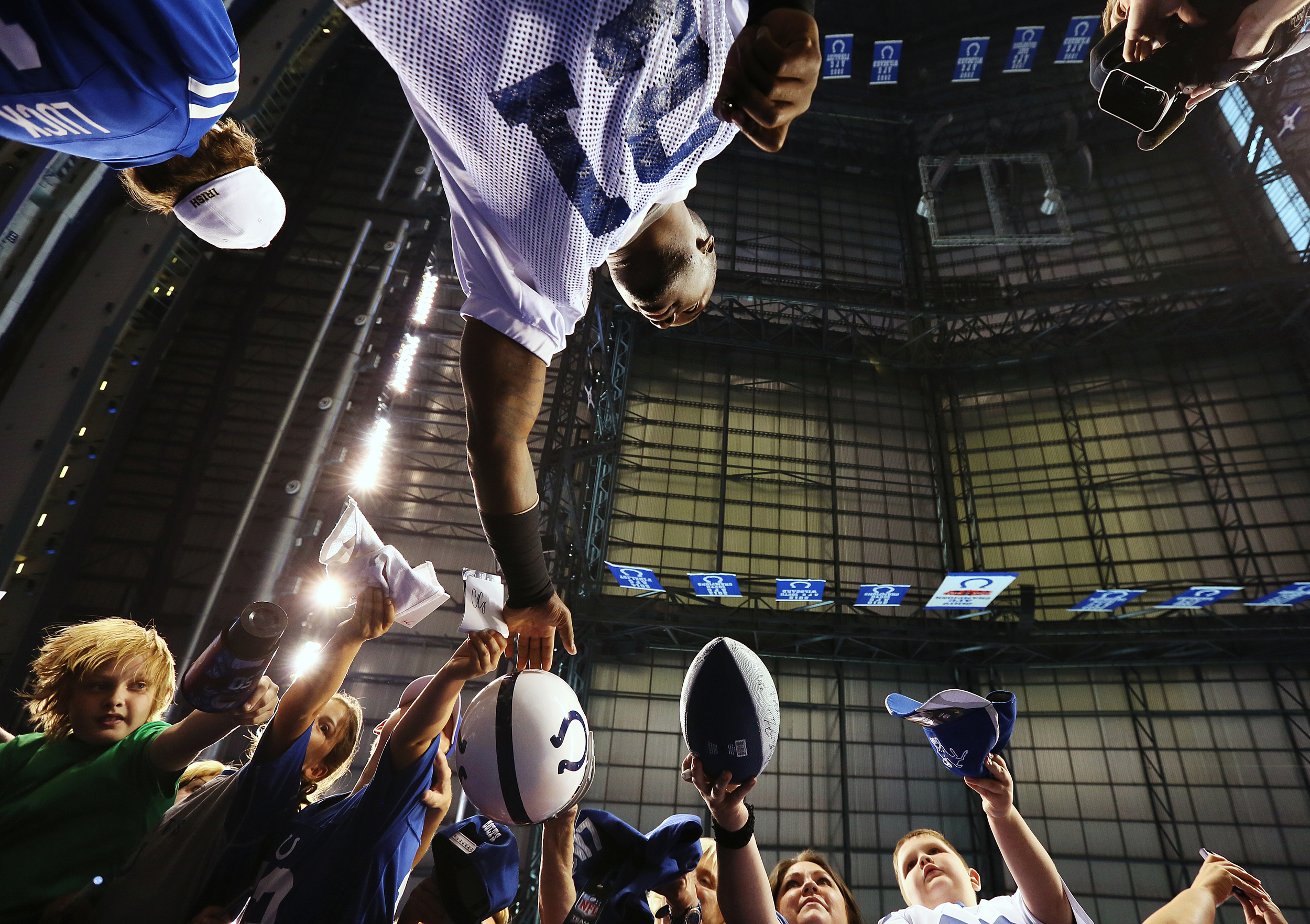 Cornerback Vontae Davis (21) signs autographs for fans before public practice at the annual Indianapolis Colts mini-camp and fan open house, Lucas Oil Stadium, Wednesday, June 10, 2015, Indianapolis, Ind.
A few fans passing by watch from the street as the Columbus Clippers take on the Indianapolis Indians at Huntington Park in Columbus, Ohio, Monday, August 25, 2014.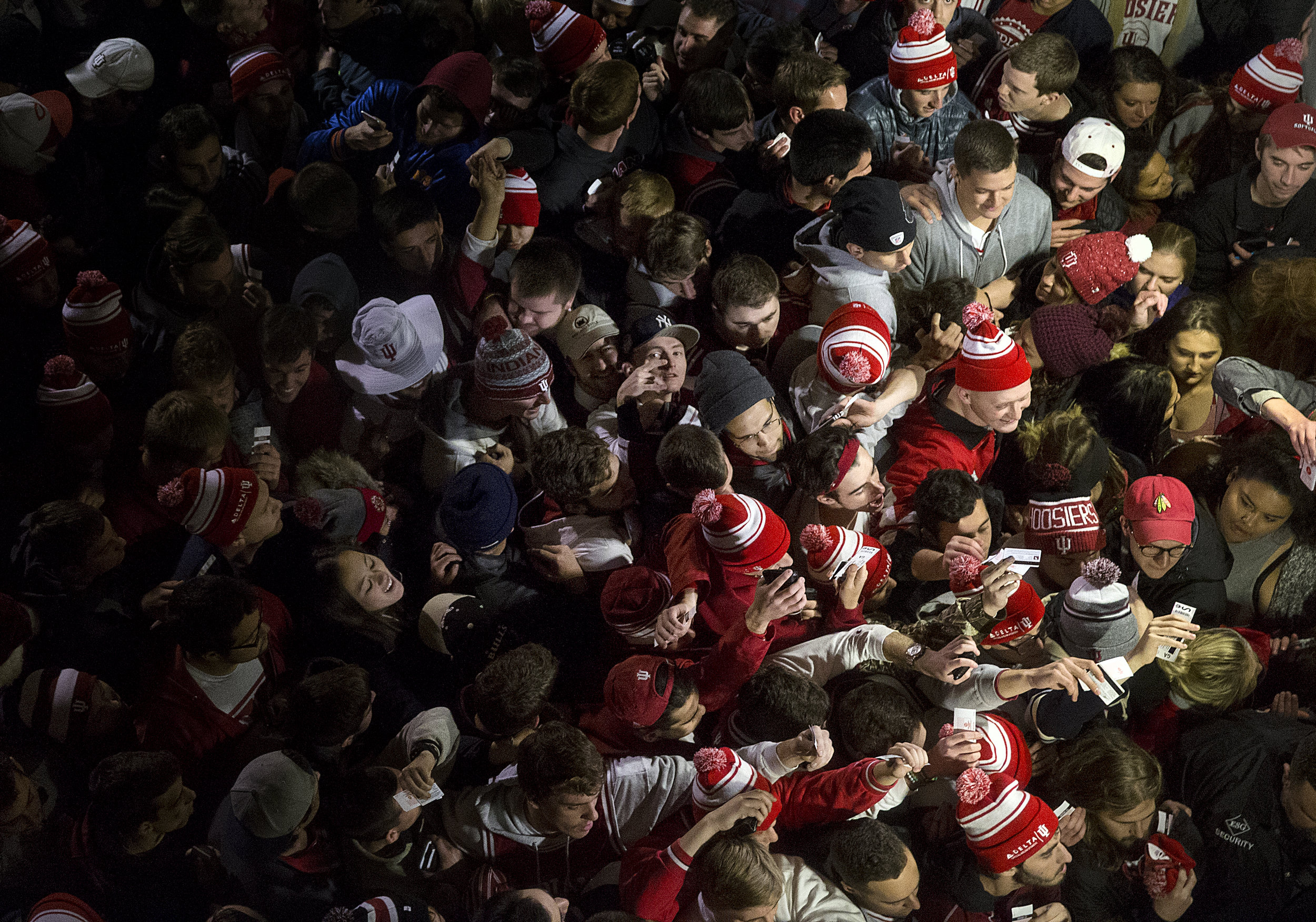 Members of the student section crowd the entrance before the game between the Indiana Hoosiers and the North Carolina Tar Heels at Assembly Hall, Bloomington, Ind., Wednesday, Nov. 30, 2016.
Sprint Cup Series driver Kyle Busch (18) squeezes the cheeks of son Brexton Locke next to wife Samantha at the finish line bricks after winning the Jeff Kyle 400, Indianapolis Motor Speedway, Sunday, July 26, 2015, Indianapolis, Ind.
From left, Challenger Cup winners Melanie Astles, Luke Czepiela and Ben Murphy celebrate with champagne after the Red Bull Air Race at Indianapolis Motor Speedway, Sunday, October 2, 2016.
The Olentangy High School Braves react to a rough loss to Cincinnati DeSalle in the division II state semifinals at Welcome Stadium in Dayton, Ohio, Friday, November 28, 2014.
Perry Meridian's Kayla O'Brian is comforted by Perry Meridian distance coach Laura Schroeder at the finish line of the 3200 meter run, at the IHSAA girls track and field sectional at Decatur Central High School, Indianapolis, Tuesday, May 17, 2016. O'Brian placed fifth in 12:14.17, but only those who place in the top three advance to IHSAA regionals at Ben Davis High School, May 24, 2016.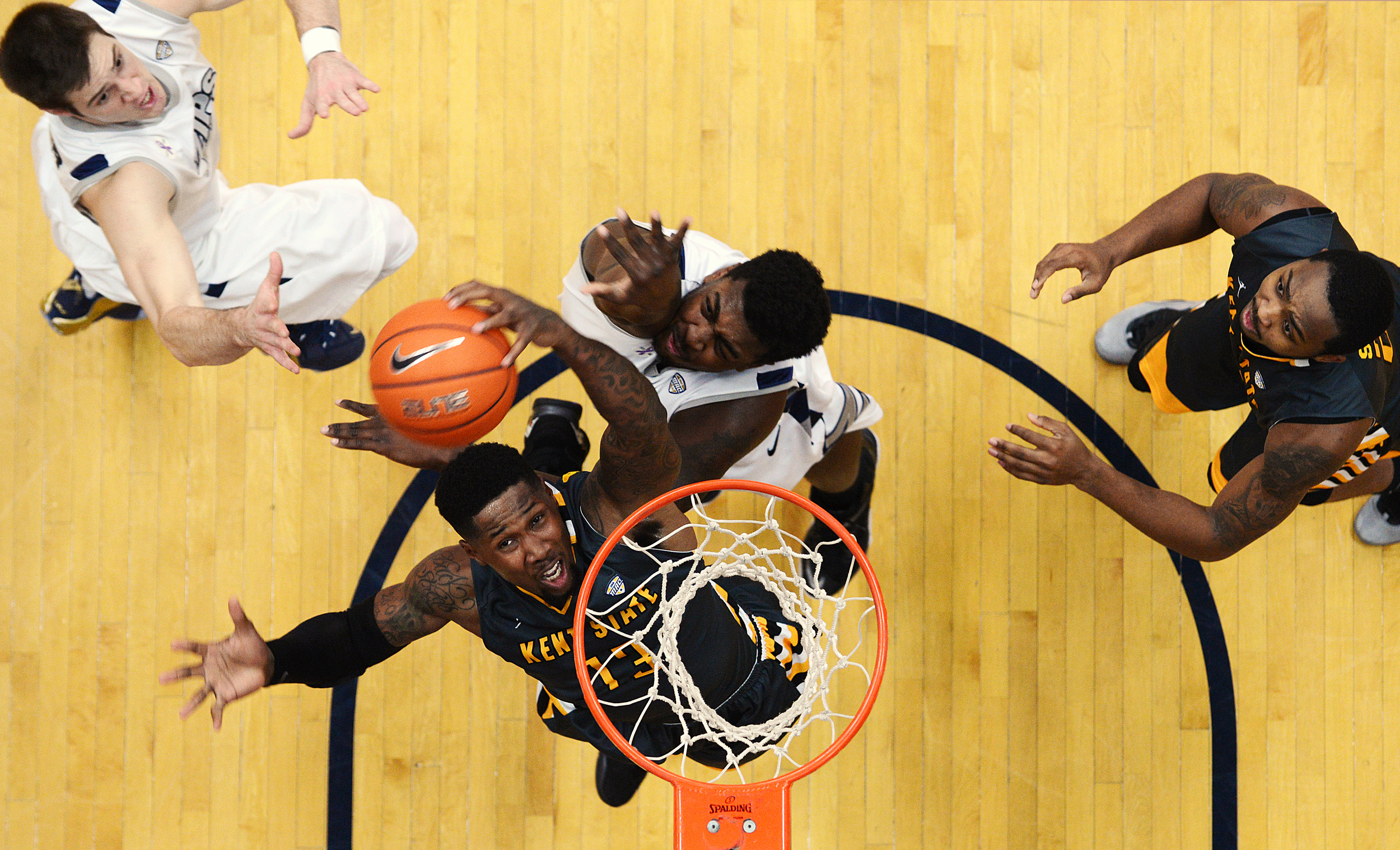 (Center) Kent State red shirt senior guard Derek Jackson takes a shot, under defense from University of Akron sophomore center Isaiah Johnson at the James A. Rhodes Arena in Akron, Ohio, Tuesday, February 10, 2015. Kent lost to Akron, 61-52.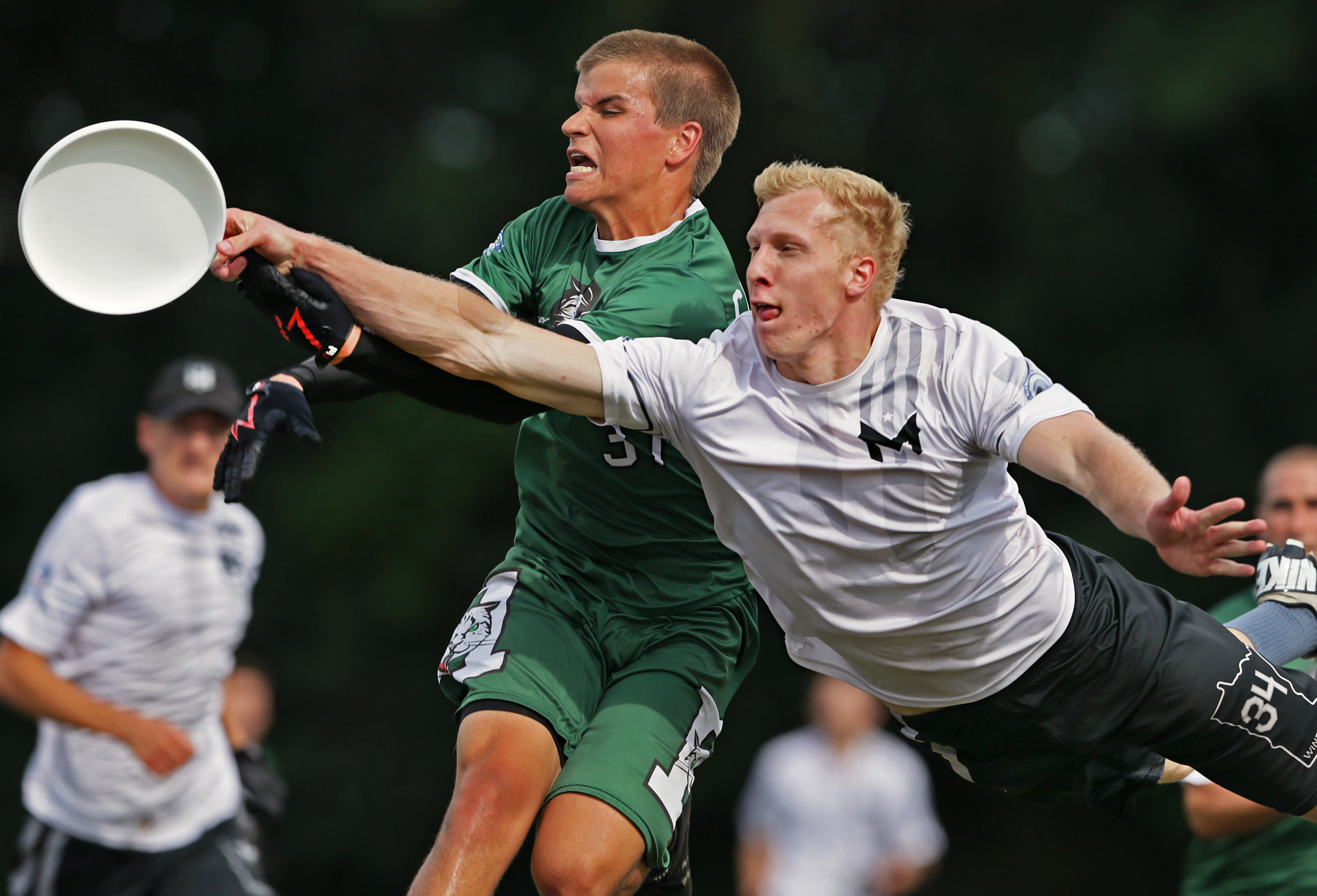 A pass to Minnesota Wind Chill's Jimmy Kittelsen (34) is incomplete due to interference from Indianapolis Alleycats defensive cutter Travis Carpenter (37), Sunday, June 28, 2015, Indianapolis, Ind.
From left, 3200 meter second place finisher, Carmel's Stacy Morozov, hangs from the neck of first place finisher, Pendleton Heights' Alex Buck, at the finish line, during the IHSAA 43rd annual girls track and field state finals, Robert C. Haugh Track and Field Complex at Indiana University, Bloomington, Ind., Friday, June 3, 2016.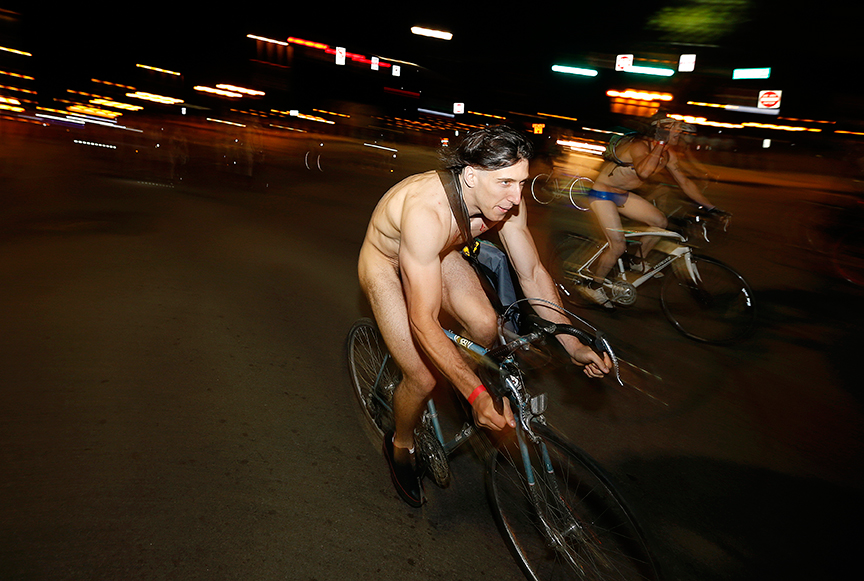 A nude bicyclist makes his way over the Broad Street bridge, coming into downtown for the fifth annual World Naked Bike Ride in Columbus, Saturday night, June 14, 2014. The event is meant to raise awareness of dangers bicyclists face amongst vehicles, as well as promote positive body-image and an independence from oil.
Tabitha Sherwood, left, crosses the finish line for winning team Phoenix at the end of the 29th running of the women's Little 500, at Indiana University's Bill Armstrong Stadium, Bloomington, Ind., Friday, April 15, 2016.
The Franklin Central Flashes celebrate an 8-0 defeat over Center Grove in the sectional final, at Franklin Central, Indianapolis, Wednesday, May 25, 2016.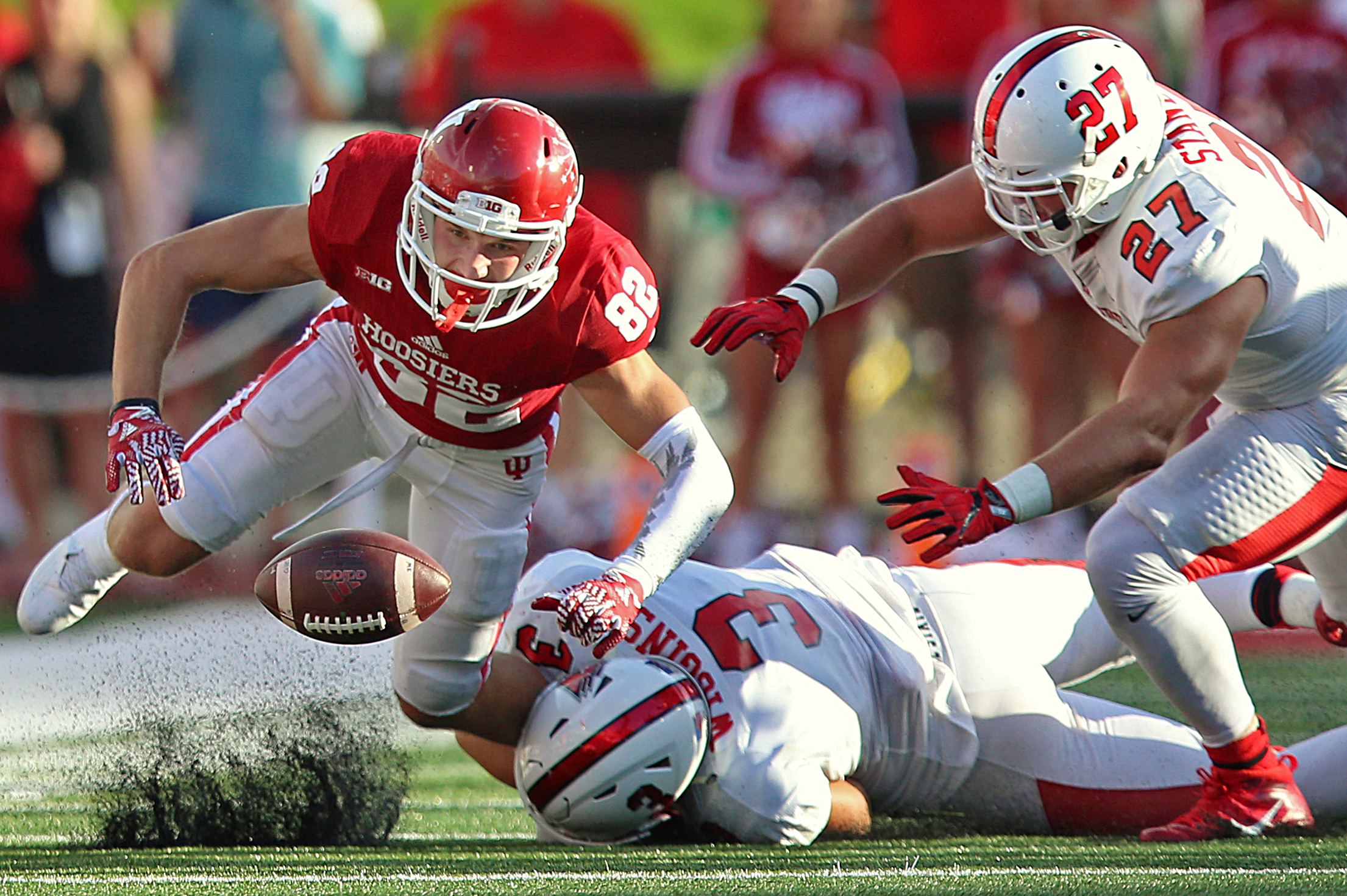 A pass to Indiana Hoosiers wide receiver Luke Timian (82) is incomplete due to defense from Ball State Cardinals linebacker Sean Wiggins (3) and Ball State Cardinals linebacker Stu Stanley (27) during third quarter action at Indiana University's Memorial Stadium, Bloomington, Ind., Saturday, September 10, 2016.
Indiana Hoosiers defensive lineman Ralph Green III (93) celebrates the Hoosiers' fourth consecutive Oaken Bucket win against the Purdue Boilermakers at Memorial Stadium, Bloomington, Ind., Saturday, Nov. 26, 2016.
Westerville Central senior receiver Lucas Irwin is unable to receive a pass from senior quarterback Nate Jackowski in the second quarter, at Westerville Central High School against Solon High School, Saturday, November 8, 2014.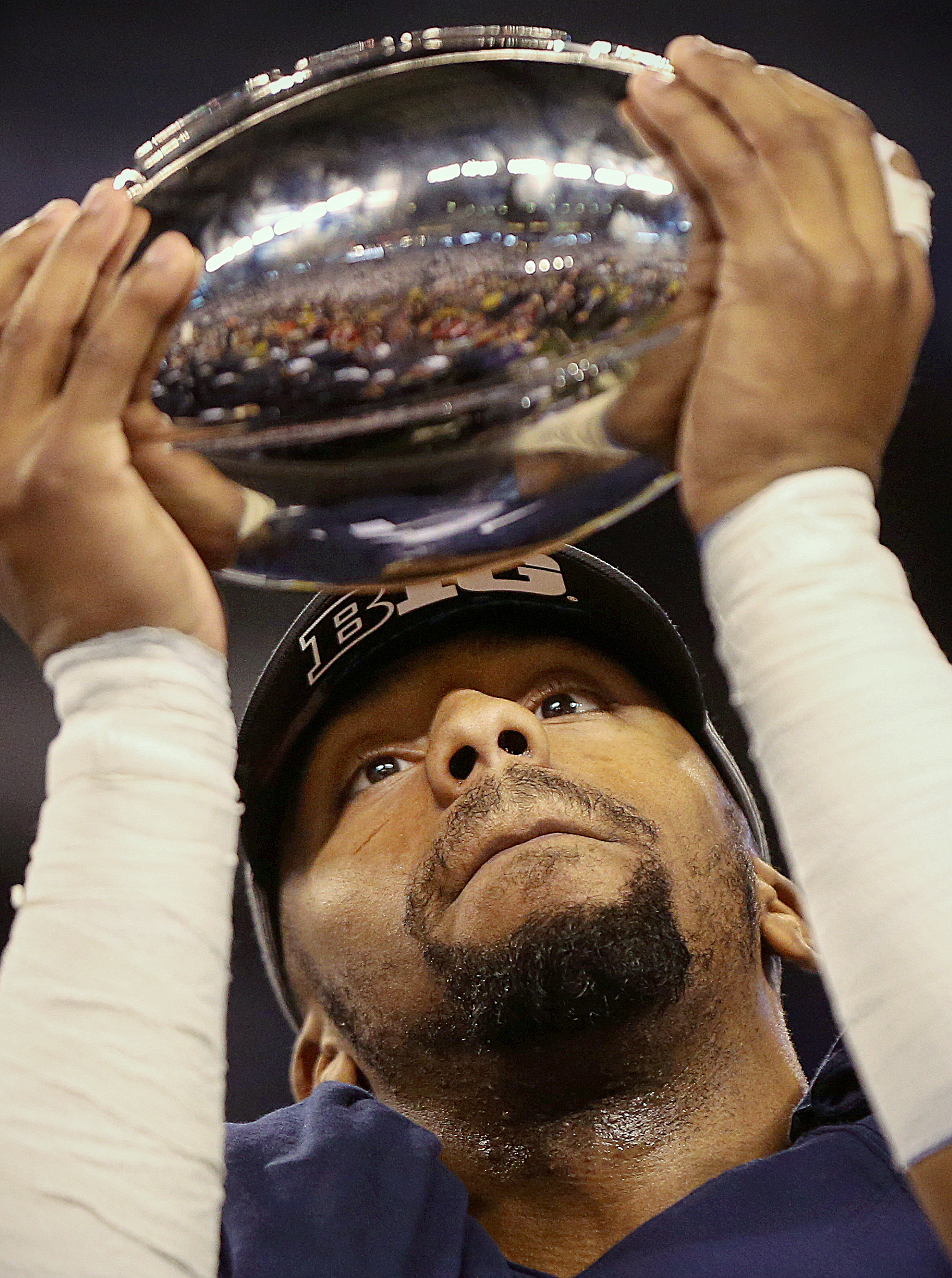 Penn State Nittany Lions cornerback Jordan Smith (12) checks out the Stagg championship trophy after winning the Big Ten championship against the Wisconsin Badgers, at Lucas Oil Stadium, Indianapolis, Saturday, Oct. 3, 2016.